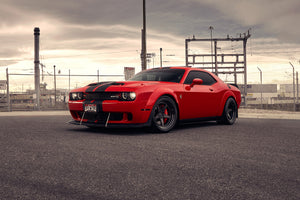 LEADER IN PERFORMANCE WHEELS
Lightweight Series
As one of our most popular series of wheels, the Velgen Lightweight Series offers high-quality, durable wheels at an affordable price. Using Flow Formed Technology, these wheels are manufactured by applying pressure to the inner barrel of the wheels after casting, which causes the barrel to stretch while also compressing the aluminum. This technology increases the overall strength of the wheel while keeping the wheels lightweight.
Forged Series
The Forged Series, Velgen's higher-end series of wheels, features a 3-piece, floating spoke design constructed from 6061-T6 forged aluminum. 6 unique designs allow you to find the perfect 3-piece wheel for your vehicle. Built to out-perform the competition, these wheels are tested to SAE, JWL, and VIA standards. 
SL Series
Built for car enthusiasts who are looking for a forged wheel that features designs capable of accenting cars, trucks, and SUVs alike, the SL Series from Velgen offer all of the above. With four different finishes, the SL Series offers great designs for various styles. Fully forged and manufactured from 6061-T6 Forged Aluminum, the Velgen Forged SL Series wheels are tested to the following standards: SAW, JWL, and VIA. Each SL Series wheel is offered in 18"-24" diameters and 5"-15" widths. These wheels can be made to fit any vehicle application.
Truck Series
Adding a set of aftermarket wheels to your truck is a great way to make your truck stand out from the crowd. Velgen's Truck Series wheels give you high-quality, forged wheels that will out-perform and out-shine your everyday replica wheels. Each Velgen Truck Series wheel is made from 6061-T6 Forged Aluminum and is tested to the following standards: SAE, JWL, and VIA. You can get these wheels in 18", 20", 22", and 24". Custom widths can be built for your custom wheels.